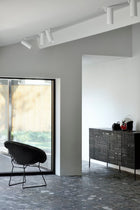 Description
The Tabwa collection offers timeless centerpieces of minimalistic silhouette with a unique and distinct character. Contemporary wooden furniture are transformed into unique pieces of art where each pattern is carefully carved by our artisans. Named after the Tabwa culture from Central Africa, the collection's inspiration comes from their fondness for linear geometric motifs.
This Tabwa sideboard features 4 doors.

Solid teak doors with a varnish finish, oak veneer body and black metal legs.

200cm: 78.8" x 17.8" x 33.5" (200 x 45 x 85 cm)

150cm: 59.1" x 17.8" x 33.5" (150 x 45 x 85 cm)
SPECIAL ORDER ITEM - Eligible to 'Request delivery quote & pay later' at cart screen to request a no-obligation delivery quote.