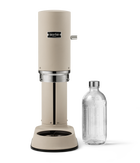 Description
Aarke Glass Bottle Pro is exclusively engineered to be compatible with the Aarke Carbonator Pro. The dishwasher safe glass bottle has a clean, sophisticated design worthy of any dinner table, and is sturdy enough for everyday use.

Materials:
Bottle - glass.
Cap - stainless steel, silicone.
Dimensions:
H: 23 cm ⌀: 9 cm
Capacity of bottle:
800 ml (700 ml up to the marked filling line)
Compatibility:
Compatible with Carbonator Pro only. This bottle is impossible to attach to other carbonators.