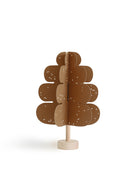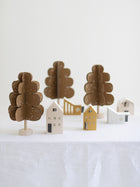 Description
Build your own tree!

Construct this 20.5 cm tall paper fir tree in less than 5 minutes. The light beechwood trunk has holes through which to thread the branches. You don't need to cut anything: All the parts are pre-punched, ribbed and perforated. And of course it also includes metal wire with which to assemble the parts.

The dark ochre-coloured oak with its delicate scattered pattern serves as lovely accent in a minimalist and natural interior. It's a wonderful and inexpensive gift to give: the A4 flatpack fits through the letterbox!

OAK, 4 pre-punched A5 cards, 2 lengths of wire and a wooden stand with pre-perforated holes. Includes instructions.
Size of tree: 20.5 cm. high, diameter 13.5 cm